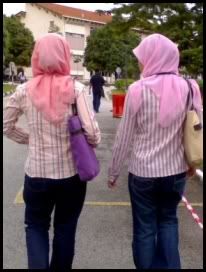 twins? hihi.
top is d pic of leenk & as. u shud noe tha
d bags
r also same but in diff colours. lolx.
reached home yesterday, after laying my butt on gsc midV's seat. i was catching d
NiGhT aT d MuSeUm
*d real thing is, i went thre to watch LoVe wReCkEd, but it's not out yet*
:b and wandering around alone at midV. ye, saya suka berjalan2. lolx.
train to KL frm midV was kinda torturing
*haha*.
full with people. &i stood at d wrong place. thre's nuthin tha i cud hold thre to keep me away frm trembling. luckily thre's this girl standing in front of me, &she looked like wanna fall too. so i grabbed her arm & we'r helping each other for
balance
. haha. nex time im gonna do d same thing for d same situation :b
for d very last hour, things wr getting better. thankfully. ^^
eh didya noe
shrek d third
is coming soon? i saw it at d cinema ad. wakh cant wait. it looked really funny ;D